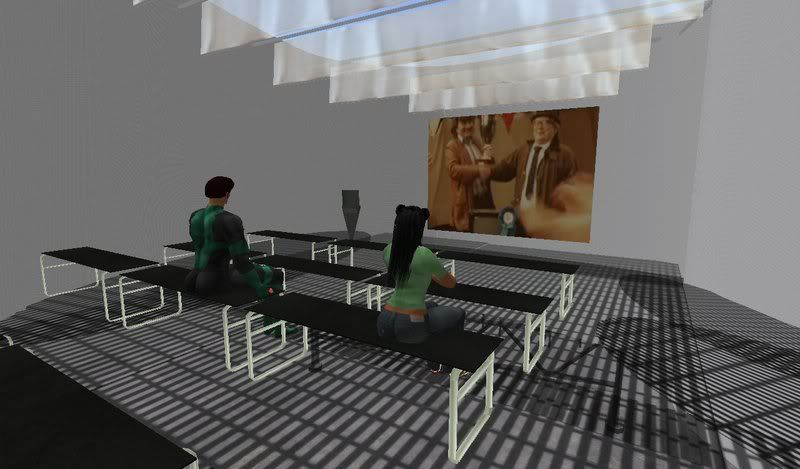 Loaded and Ready…With Virtual Cinema
MetaNetwork News
By Mistee Jaxxon
Grab a friend, a bag of popcorn and be sure to take cover. The BBC Film Network has invaded Second Life with an arsenal of film shorts by new British filmmakers.
Depo Consulting, a virtual brand specialist, has partnered with BBC Film Network to showcase an award-winning and eclectic program of short films by up and coming British filmmakers. The short films, which range from 1 to 4 minutes in length, are being broadcast at a virtual cinema in Second Life.
"Film Network is constantly trying to develop new ways of screening film and Second Life presents an opportunity to explore the potential of virtual worlds and engage with a new audience," said Claire Cook, Senior Producer, BBC Film Network.
The theatre's ample seating and high resolution screen afford the virtual movie watcher an optimal experience while enjoying the animation, comedies or documentaries being presented by The Film Network.
"With this space you have the ability to combine the immediacy and convenience of the Internet, with thesocial experience of actually visiting a cinema," said depo CEO and creative director Peter Dunkley.
The interactive site also allows visitors to rate and comment on the films in addition to providing the featured filmmakers the opportunity to create profiles and exchange tips, advice and ideas. The free virtual cinema is now in its second week of a 3 week exposition.
Details about the program can be found at:
http://www.depoconsulting.com/second-life.html